Use friendly MySQL to MS Excel Database converter Software provide reliable solution to convert bulk database records generated in MySQL to MS Excel. Simple to use database migration tool helps you to handle the process of conversion data between database engine including MySQL and MS Excel.
Secure database conversion software provides excellent way to convert bulk database records of MySQL to MS Excel spreadsheets in very easiest way. Smart database converter tool automatically converts bulk database records from one format to another.
Non destructive database migration utility helps database administrative and IT professional to migrate bulk database records without writing complex database scripting. Advanced database converting program maintains database integrity during the migration process.
Software Features:
Professional MySQL to MS Excel database converter software automatically converts bulk database records of MySQL into MS Excel spreadsheets.
Powerful database conversion program easily saves converted database records at the user specified location for future reference.
Unique database converter tool has ability to convert selected table records or entire database by the help of inbuilt smart database conversion technique.
Database conversion software is cost effective, reliable and secure compared to complex database conversion software.
No complex database queries are required to convert bulk database records.
Standard base converter tool maintains integrity of database and does not modify in MySQL database records during the database migration process.
No expert guidance is needed to operate the database converter software.

Software Requirements
Hard Disk Space: 18 MB of Free Hard Disk Space
RAM Recommended: 256 MB RAM
Pentium class or higher processor

Operating System Supported
Microsoft Windows OS including Windows 7, Windows Vista, Windows XP, Windows Server 2008, 2003, 2000 etc.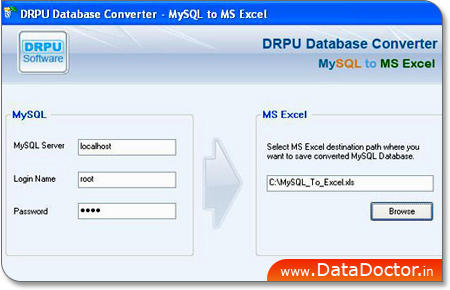 MySQL to MS Excel Database Converter Software
Download Now
(Primary download link)
(Secondary download link)